Bonobo
2x LP 180g 33rpm + download

-- Sold Out -- But expected in again!
2017 EU issue on 180g 2xLP -Simon Green aka Bonobo returns with his sixth album, the masterful, magisterial Migration – a record which cements his place in the very highest echelons of electronic music and beyond. By turns lush,...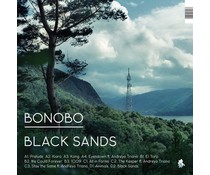 2x LP 180g 33rpm + download

-- In Stock --
2010 EU issue on 180g 2LP+download =Black Sands is the fourth studio album by English DJ Bonobo. Simon Green (AKA Bonobo) returns with his fourth and finest album, Black Sands. Losing none of his epic emotionalism, his control of texture and color a...
2x LP

-- Sold Out -- But expected in again!
2013 EU reissue vinyl 2XLp editonIts been almost three years since the release of Bonobos aka Simon Green masterful mouldbreaking Black Sands an album that saw him touring a hypnotic live show across the world for well over a year Now in 2013 he stan...