Cannonball Adderley
1x LP 180g 33rpm+download

-- In Stock --
2015 EU repressed on 180g LP+download -Outside of Somethin' Else, Adderley's 1958 masterpiece, In San Francisco may be the saxophonist's defining moment. Hot on the heels of session work with Miles Davis and his Kind of Blue-era group, alto saxoph...
1x LP 180 gr.33rpm+bonus track

-- In Stock --
2017 EU repressed on 180g LP+bonus track-One of the best known record dates in the history of modern jazz, the chemistry here among Adderley, Miles Davis, Hank Jones, Sam Jones and Art Blakey is amazing. Their reworkings of "Autumn Leaves" and "Lo...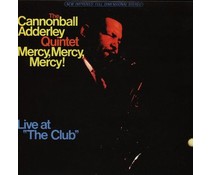 1x LP 180 gr.33rpm HQ vinyl

-- In Stock --
Originally released in 1966 - 2013 US Presented for the First Time on 180 Gram Vinyl and Mastered from the Original Capitol Tapes After many albums Adderley jumped over to Capitol Records in 1966 & had the whole world groovin to his top chart smash ....