Elton John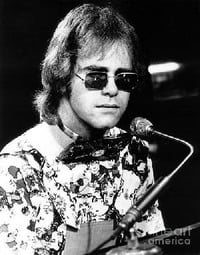 Elton John
is an English pop singer , composer and pianist . After a career of 35 years there were more than 250 million recordings sold him , making it one of the most successful artists of all time . The 1997 remake of his single Candle in the Wind ( original from 1973) , which was created following the death of Princess Diana , more than 37 million copies were sold. Of his 56 singles landed there in the American Top 40 , 16 in the top 10 , four in the second and nine in the first . He has six Grammy Awards, an Academy Award , a Golden Globe and a Tony Award. His success had a profound impact on popular music and made sure the piano remained popular in the rock 'n' roll . In 2004 he took the 49th place in the list of greatest artists of all time by Rolling Stone .
In 1994, Elton John was inducted into the Rock and Roll Hall of Fame . Since the end of the eighties he makes a large contribution to the fight against AIDS . He is a strong supporter of the LGBT movement too. In 1998, Elton John was appointed a Knight Bachelor . In 2008, Billboard magazine placed him in third place on the Billboard Hot 100 50th Anniversary Charts , which Elton John , according to this list was the most successful male solo artist ever.
Discography:
    Empty Sky (1969)
    Elton John (1970)
    Tumbleweed Connection (1970)
    Madman Across the Water (1971)
    Honky Château (1972)
    Don't Shoot Me I'm Only the Piano Player (1973)
    Goodbye Yellow Brick Road (1973)
    Caribou (1974)
    Captain Fantastic and the Brown Dirt Cowboy (1975)
    Rock of the Westies (1975)
    Blue Moves (1976)
    A Single Man (1978)
    Victim of Love (1979)
    21 at 33 (1980)
    The Fox (1981)
    Jump Up! (1982)
    Too Low for Zero (1983)
    Breaking Hearts (1984)
    Ice on Fire (1985)
    Leather Jackets (1986)
    Reg Strikes Back (1988)
    Sleeping with the Past (1989)
    The One (1992)
    Duets (1993)
2x LP 180gr. HQ Vinyl 33rpm + Download

-- In Stock --
2016 EU issue on 180g LP= 33rd Studio Album Co-Produced with T-Bone Burnett! Elton John, one of the most influential musicians and songwriters of all time, returns with his 33rd studio album, Wonderful Crazy Night, which will be released worldwide on...
2x LP 180gr. HQ Vinyl 33rpm + Download

-- In Stock --
2017 EU reissue 180g vinyl 2LP = Released to coincide with the 50th anniversary of his songwriting partnership with Bernie Taupin, the 2LP 21-track 'Diamonds' is the ultimate greatest hits collection from Elton John. Kicking off with the still-stunning
1x LP 180 gr.33rpm=remastered=

-- In Stock --
2017 EU repressing on 180g LP=This album brought the classic hit 'Your Song' which would remain a staple for Elton throughout his career. Now available on 180 gram heavyweight vinyl and is
one in a series of vinyl releases to mark Elton John's 50th anni