Emmylou Harris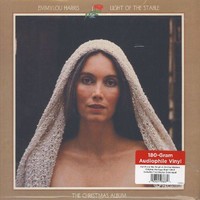 Emmylou Harris (1947 - ) is an American country singer, folk singer and songwriter, mostly known successes in the seventy years. She has collaborated with many artists from the country and folk world.
Discograhpy:
    Gliding Bird (1970)
    Pieces of the Sky (1975)
    Elite Hotel (1976)
    Luxury Liner (1977)
    Quarter Moon in a Ten Cent Town (1978)
    Blue Kentucky Girl (1979)
    Light of the Stable (Christmas Album) (1980)
    Roses in the Snow (1980)
    Evangeline (1981)
    Cimarron (1981)
    Last Date (live 1982)
    White Shoes (1983)
    The Ballad of Sally Rose (1985)
    Thirteen (1986)
    Trio (mit Dolly Parton und Linda Ronstadt) (1987)
    Angel Band (1987)
    Bluebird (1988)
    Duets (mit verschiedenen Partnern) (1990)
    Brand New Dance (1990)
    At the Ryman (live 1992)
    Cowgirl's Prayer (1993)
    Wrecking Ball (1995)
    Spyboy (live 1998)
    Trio II (mit Dolly Parton und Linda Ronstadt) (1999)
    Western Wall (The Tucson Sessions) (Duo-Album mit Linda Ronstadt) (1999)
    Red Dirt Girl (2000)
    Stumble into Grace (2003)
    All the Roadrunning (mit Mark Knopfler) (2006)
    All I Intended To Be (2008)
    Hard Bargain (2011)
    Old Yellow Moon (mit Rodney Crowell) (2013), Grammy
2x LP 180g 33rpm + download

-- In Stock --
2016 EU issue on 180g LP=Reissue of Harris's Grammy Award-Winning 2000 Nonesuch Debut featuring Buddy Miller, Ethan Johns, Bruce Springsteen, Dave Matthews & Patty Griffin!
It was her first solo studio recording since 1995's acclaimed Wrecking Bal...
2x LP 180gr. HQ Vinyl 33rpm

-- In Stock --
Orginally released in 1978 - 2014 EU reissue on 180 gram audiophile vinyl -This release is a compilation comprising two superb broadcasts made by Emmylou Harris during 1978. The silver voiced and wonderful Emmylou since her one and only appearance in...
1x LP 180G.33rpm +Cut from the original analog masters + Download

-- In Stock --
2014 US reissue on 180g LP + Download-Cut from the original analog masters =Emmylou Harris' Light of the Stable debuted in 1979, with its title track featuring backing vocals from Neil Young, Linda Ronstadt and Dolly Parton. The sublime Rodney Crowe...