Etta James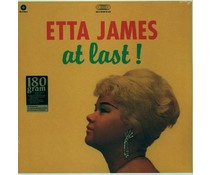 1x LP 180 gr.33rpm+ bonus tracks

-- Sold Out -- But expected in again!
2013 EU reissue on 180 gr LP plus 4 bonus tracks= The 1960 debut album from the unmatchable Etta James includessome of her best known songs: The title track At Last in particular, is of course an all-time classic, and All I Could Do Was Cry
1x LP 180g 33rpm +bonus CD

-- In Stock --
2014 EU reissue LP+bonus CD = Etta James in 1962 suddenly became THE Queen of The Soul Music and this record, originally released on Argo Records, has shored up her fame paving the way to her ascent to the stardom.
1x LP 180g 33rpm +bonus CD

-- In Stock --
2015 reissue on 180g LP+bonus CD=1962's Sings For Lovers is the soul queen's fourth album, a stunning 10-track tribute to love and lovers featuring the indelible "Fool's Rush In."