Faith No More
1xLP white coloured 33rpm

-- In Stock --
2015 EU reissue on white coloured LP-Faith No More's Legendary 1985 Debut Reissued, We Care A Lot, is reportedly getting reissued. From what I can tell, the last pressing was at the time of original release, although some unofficial ones may have snu...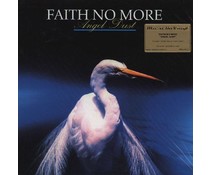 2x LP 180g 33rpm+ bonus track Easy

-- In Stock --
2013 EU reissue on 180g 2LP- A mind-bending masterpiece of musicianship. included their impressive and popular Lionel Richie(Commodores) cover "Easy" as a hidden bonus track!=In an era when numerous Funk Metal acts ruled the airw...
1xLP standrd 33rpm + download

-- In Stock --
2015 EU issue on stndard LP+download -First New Album in 18 Years! Faith No More, who reunited in 2009 for a series of sold out performances and international festivals, will issue Sol Invictus, their highly anticipated first full-length album since ...