Fleet Foxes
1xLP standard 33rpm+Download

-- In Stock --
2017 EU pressed on standard LP+download =Fleet Foxes will release Crack-Up, its long-awaited and highly anticipated third album, June 16 on Nonesuch Records. Crack-Up comes six years after the 2011 release of Helplessness Blues and nearly a decade si...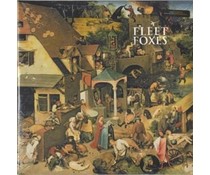 1xLP standard 33rpm+bonus EP+Download

-- Sold Out -- But expected in again!
2008 US SUB POP issue on standard LP+EP+MP3 downloads-=Seattle's five-piece Fleet Foxes traffic in baroque harmonic pop on this, their self-titled full-length debut. They draw influences from the traditions of folk, pop, choral, gospel, sacred harp ...