Gare Du Nord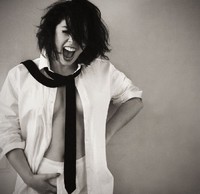 Gare du Nord is a Dutch-Belgian jazz duo, originally consisting of Doc (Ferdinand Lancée) and Inca (Barend Fransen). Doc played guitar and Inca plays saxophone, while both perform vocals.
Important albums:
Sex 'n' jazz (vol. 1)     2007
Jazz in the city     2007
Love for lunch        2009
Rendezvous     2012
Collected     2013
2x LP 180 gr.33rpm =gatefold=

-- In Stock --
2017 EU reissue on 180g 2LP = This 2017 expanded edition by Gare Du Nord brings together both the Blue Note remix album master and the original vintage album master from early 2007 for the very first time. State of the art remastered, this landmark e...
1x LP 180 gr.33rpm audiophile Vinyl

-- Sold Out -- But expected in again!
2015 EU issue on 180g LP - Gare Du Nord is back. Stronger! is the new album from the band that once high-pitched eyes with fine jazz lounge. The new record partly explains an interpretation of a story with a sad background, based on the riddles surro...