Hiatus Kaiyote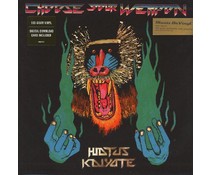 2xLP 180g 33rpm+download

-- Sold Out -- But expected in again!
2015 EU pressing on 180g vinyl LP+download -Wrapped in soul, blending poetry and polyrhythms, the music of Hiatus Kaiyote is in a lane all by itself. The Grammy-nominated four-piece band is set to return to stereos with their new album Choose Your We...
1xLP 180g 33rpm

-- In Stock --
2013 EU issue on 180g audiophile LP-Debut album of Breakthrough Artist of 2013 (Gilles Peterson). Future Soul influenced by Stevie Wonder, Otis Redding, Tupac Shakur, Flying Lotus, traditional flamenco and music from Mali and Colombia.