Hiatus Kaiyote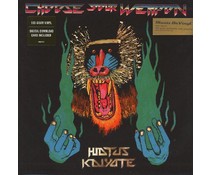 2xLP 180g 33rpm+download

-- In Stock --
2015 EU pressing on 180g vinyl LP+download -Wrapped in soul, blending poetry and polyrhythms, the music of Hiatus Kaiyote is in a lane all by itself. The Grammy-nominated four-piece band is set to return to stereos with their new album Choose Your We...
1xEP 180g 33rpm

-- In Stock --
2016 EU rissue on 180g 10inch EP- Recalibrations Vol. 1 is a new 4 track EP featuring new versions and remixes of Hiatus Kaiyote's songs, including an acoustic take of their Grammy nominated track "Nakamarra" from Tawk Tomahawk, an alternate version of "P
1xLP 180g 33rpm

-- In Stock --
2013 EU issue on 180g audiophile LP-Debut album of Breakthrough Artist of 2013 (Gilles Peterson). Future Soul influenced by Stevie Wonder, Otis Redding, Tupac Shakur, Flying Lotus, traditional flamenco and music from Mali and Colombia.