Jackie McLean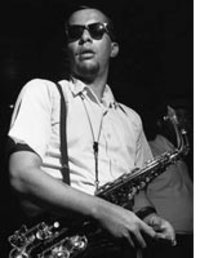 Jackie McLean (1931 - 2006) was an American jazz musician and saxophonist.
He is one of the pioneers of the hard bop and worked with jazz greats like Miles Davis, Gil Evans, Sonny Rollins, Charles Mingus and Ornette Coleman. Its voluminous sound that stood out from the typical for that time of the tone alto saxophone, and his expressive, blue colored game and a slightly edgy phrasing were his artistic trademark.
Important albums:
Lights Out! (1956)
4, 5 and 6 (1956)
Jackie's Pal (1956)
Drum Suite (Columbia, 1956)
Blue Note:
    New Soil (1959)
    Swing, Swang, Swingin' (1959)
    Capuchin Swing (1960)
    Jackie's Bag (1959–60)
With Donald Byrd:
Fuego (Blue Note, 1959)
Byrd in Flight (Blue Note, 1960)
With Sonny Clark
Cool Struttin' (Blue Note, 1958)
With Miles Davis:
    Dig (Prestige, 1951)
    Quintet / Sextet (Prestige, 1955)
With Charles Mingus:
    Pithecanthropus Erectus (1956)
    Blues and Roots (1958)
1x LP standard 33rpm

-- Sold Out -- But expected in again!
2009 Blue Note repressed on standard LP-One of Jackie McLeans earliest Blue Note sessions, this relaxed quartet date with Walter Bishop on piano is a rare opportunity to hear this alto saxophone master tackling standards by the likes of Irving Berli...