John Lee Hooker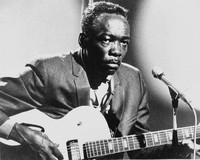 John Lee Hooker (1917 - 2001) was an influential American blues singer, guitarist and songwriter wielded different kinds of styles during his lifetime. He is regarded as an important innovator of the blues. Famous songs include Hooker Boom Boom and I'm in the Mood.
Important albums:
1959 - Folk Blues
1959 - House Of The Blues
1959 - The Country Blues of John Lee Hooker
1960 - Blues Man
1960 - I'm John Lee Hooker
1960 - That's My Story
1960 - Travelin'
1961 - John Lee Hooker Sing The Blues
1961 - Plays And Sings The Blues
1961 - The Folk Lore of John Lee Hooker
1962 - Burnin'
1962 - Drifting the Blues
1962 - The Blues
1962 - Tupelo Blues
1963 - Don't Turn Me from Your Door: John Lee Hooker Sings His Blues
1964 - Burning Hell
1966 - It Serve You Good To Suffer
1989 - Healer
1XLP 140g. HQ Virgin vinyl 33RPM

-- In Stock --
(Origially released in 1969)2013 EU reissue Vinyl LP edition, pressing on HQ virgin 140gram vinyl=featuring 12 tracks of both acoustic and electric tunes like "Tupelo" and "The Hobo" (recorded at the Newport Folk Festival in 1960), "I'm Mad Aga...
2x LP 180gr. HQ Vinyl 33rpm

-- In Stock --
Originally released in 1969 - 2006 UK 2LP set Pure Pleasure reissued on audiophile 180gram Virgin - Recorded when Hooker was well into his '60s 'comeback', "Get Back Home" features the bluesman in a solo performance (a mode that best reveals the...