KISS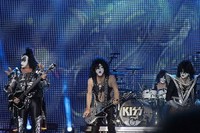 KISS is a shock rock / hard rock band in America as one of the most successful bands of all time is counted. In Europe, KISS is best known for the hit I Was Made For Loving You.
Discography:
    KISS (1974)
    Hotter Than Hell (1974)
    Dressed to Kill (1975)
    Destroyer (1976)
    Rock and Roll Over (1976)
    Love Gun (1977)
    Ace Frehley (1978)
    Peter Criss (1978)
    Gene Simmons (1978)
    Paul Stanley (1978)
    Dynasty (1979)
    Unmasked (1980)
    Music from "The Elder" (1981)
    Creatures of the Night (1982)
    Lick It Up (1983)
    Animalize (1984)
    Asylum (1985)
    Crazy Nights (1987)
    Hot in the Shade (1989)
    Revenge (1992)
    Carnival of Souls: The Final Sessions (1997)
    Psycho Circus (1998)
    Sonic Boom (2009)
    Monster (2012)
2x LP HQ Vinyl 33rpm

-- In Stock --
Orginally released in 1975 - 2008 EU reissue 180g vinyl LP edition-It was de rigeur in the 1970s for any self-respecting hard rock act to release a career-to-date live album, and 1975's KISS 'Alive!' is a shining example, proving to be the band's bre...
1x LP 180g vinyl + Download=40th Anniversary Edition

-- In Stock --
2014 EU reissue on 180g LP -The 1974 debut album by Kiss features material mostly written by Gene Simmons and Paul Stanley as members of their previous band Wicked Lester. The album took only 2 or 3 weeks to record and mix. The debut album was recor...