Low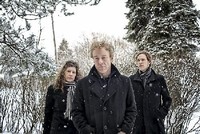 Low
is an American indie rock group from Duluth, Minnesota, formed in 1993. As of 2010, the group is composed of founding members Alan Sparhawk (guitar and vocals) and Mimi Parker (drums and vocals), joined by newer addition Steve Garrington (bass guitar).
The music of Low is characterized by slow tempos and minimalist arrangements. Early descriptions sometimes referred to it as rock subgenre called "slowcore".
Discography:
    I Could Live in Hope – (Vernon Yard, 1994)
    Long Division – (Vernon Yard, 1995)
    The Curtain Hits the Cast – (Vernon Yard, 1996)
    Secret Name – (Kranky, 1999)
    Things We Lost in the Fire – (Kranky, 2001)
    Trust – (Kranky, 2002)
    The Great Destroyer – (Sub Pop, 2005)
    Drums & Guns – (Sub Pop, 2007)
    C'mon – (Sub Pop, 2011)
    The Invisible Way – (Sub Pop, 2013)
2XLP 140g 33rpm vinyl

-- In Stock --
(Orginally released in 2001)2009 EU reissue on 140g vinyl 2LP-Limited three-sided double vinyl LP pressing of this 2001 album from the Indie rockers. There's a fuzzy feeling on some songs with a touch of distorted guitar, and the quality songwriting...