Notorious BIG
2x LP 180g 33rpm =gatefold=

-- Sold Out -- But expected in again!
2013 US reissue on 180g 2LP-Featuring the classic tracks "Juicy," "Big Poppa," and "One More Chance," Ready To Die single-handedly revitalized the East Coast hip hop scene after longstanding commercial dominance by the West Coast and has gone onto quadrup
3x LP standard 33rpm

-- In Stock --
2017 EU reissue om 180g 3LP="This album represents the artistic vision of The Notorious. widely recognized as one of the world's most influential rappers. The record topped the U.S. album charts and featured the hits "Hypnotize" and "Mo Mone...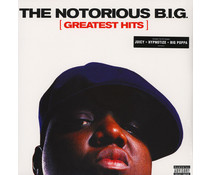 2x LP 180g 33rpm =gatefold=

-- In Stock --
2018 EU repressing on 180g 2LP= Mighty 17-track anthology from 2007 includes team-ups with Eminem, Snoop Dogg, R Kelly, Faith Evans & Mary J. Blige, Bone Thugs-N-Harmony and others. (NOTORIOUS BIG