Notorious BIG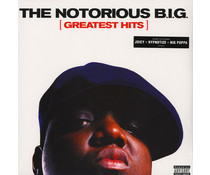 2x LP 180g 33rpm =gatefold=

-- Sold Out -- But expected in again!
(2007) 2018 EU reissue 180g vinyl 2LP= Mighty 17-track anthology from 2007 includes team-ups with Eminem, Snoop Dogg, R Kelly, Faith Evans & Mary J. Blige, Bone Thugs-N-Harmony and others. (NOTORIOUS BIG
2x LP 33rpm =limited coloured=

-- In Stock --
( 2015 ) 2019 EU issue on orange coloured vinyl 2LP-! This is an esential and powerful weapon for all the Hip Hop creators and DJ's.


Tracks:
LP1
A1 Stay With Me
A2 One More Chance
A3 Juicy
A4 Big Poppa Remix
2x LP Standard 33rpm=COLOURED

-- Sold Out -- But expected in again!
( 1999 ) 2017 EU reissue on 180g 2LP= Record Store Day 2017 Release-The half-baked 1999 release Born Again reeks of a posthumous cash-grab. We look back on its place in the Biggie canon on the 20th anniversary of Christopher Wallace's death.