Sonny Rollins
Theodore Walter (Sonny) Rollins (New York City, September 7, 1930) is an American jazz musician and tenor saxophonist. Sonny Rollins has a long productive career in jazz. He started at eleven, and played all of his twentieth along with Thelonious Monk. Today (2012) he was still touring and he takes more albums. Enjoyed generation with whom he recorded and he survived meanwhile, are among others John Coltrane, Miles Davis, and Art Blakey. Rollins is known for its powerful sound that he include his circular breathing technique thanks and using a very open mouthpiece.
Important Albums
1953     Sonny Rollins with the Modern Jazz Quartet 
1954     Moving Out
1955     Work Time
1956     Tenor Madness
1956     Saxophone Colossus
1956     Sonny Boy
1957     Sonny Rollins, Vol. 1
1957     Way Out West
1957     Sonny Rollins, Vol. 2
1957     Newk's Time
1957     Sonny Rollins Plays / Thad Jones Plays
1958     Sonny Rollins and the Big Brass
1958     Sonny Rollins and the Contemporary Leaders 
1962     The Bridge
With Miles Davis
    Miles Davis and Horns (1951)
    Dig (1951)
    Bags' Groove (1954)
With Kenny Dorham
    Jazz Contrasts (Riverside, 1957)
With J. J. Johnson
    Trombone By Three (1949)
With Modern Jazz Quartet
    The Modern Jazz Quartet at Music Inn Volume 2 (Atlantic, 1958)
With Thelonious Monk
    Monk (1954)
    Thelonious Monk and Sonny Rollins (1953)
    Brilliant Corners (1957)
With Bud Powell
    The Amazing Bud Powell (1949)
With Max Roach
    Clifford Brown and Max Roach at Basin Street (1956) - with Clifford Brown
With The Rolling Stones
    Tattoo You (1981)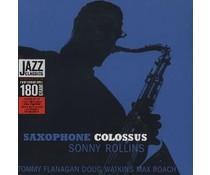 1xLP 180g 33rpm

-- In Stock --
2012 EU reissue  of the classic 1957 = arguably his finest all-around set. Joined by pianist Tommy Flanagan, bassist Doug Watkins, and drummer Max Roach, Rollins debuts and performs the definitive version of "St. Thomas," tears into the chord changes of "
2x LP 180 gr. HQ Vinyl 45RPM -LTD-

-- Sold Out -- But expected in again!
Originally released in 1956 - 2009 Numbered Limited mono Edition 180g 45RPM double LP One of the most highly collectible of all the Blue Note releasesJJ Johnson shared the front line with his tenor master Sonny Rollins for an exceptional session here...
1XLP 180g 33rpm

-- Sold Out -- But expected in again!
2012 EU reissue on 180 LP = Way Out West(1957) was Sonny Rollins' first tenor saxophone-bass-drums recording. He would follow this with the trio recordings A Night at the Village Vanguard (Blue Note, 1999) and Freedom Suite (Riverside/OJC, 1991). Unl...