Al Di Meola/de Lucia/McLaughlin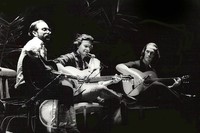 The Guitar Trio (McLaughlin, Di Meola & De Lucia) changed the thinking about acoustic guitar. Since this album's release, thousands of guitarists have tried to match its virtuosity. Even today, it is the standard by which all other jazz or world music guitar recordings are measured. Moreover, these musicians proved they could play unplugged and still appeal to young fusion fans.
Inportant Albums:
1981 Friday Night in San Francisco
1996 The Guitar Trio
2x LP 180 gr.45rpm HQ vinyl = RTI=gatefold

-- Sold Out -- But expected in again!
(Originally released in 1981)2012 US ORG reissue vinyl LP Edition, on Numbered Limited Edition 180g 45RPM 2LP from ORG=Mastered by Bernie Grundman from the Original Analog Master Tapes and Pressed at RTI. Recorded Onstage in 1980: Nylon-String Guitar...