Al Green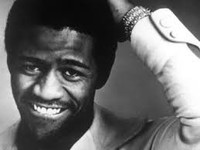 Al Green (1946 - ), or Reverend Al Green, is an American singer, best known for recording a series of soul hit singles in the early 1970s, including "Tired of Being Alone", "I'm Still In Love With You", "Love and Happiness" and his signature song, "Let's Stay Together". Inducted to the Rock and Roll Hall of Fame in 1995, Green was referred to on the museum's site as being "one of the most gifted purveyors of soul music". He has also been referred to as "The Last of the Great Soul Singers". Green was included in the Rolling Stone list of the 100 Greatest Artists of All Time, ranking at No. 66.
Discography
Back Up Train (1967)
Green Is Blues (1969)
Al Green Gets Next to You (1971)
Let's Stay Together (1972)
I'm Still in Love with You (1972)
Call Me (1973)
Livin' for You (1973)
Al Green Explores Your Mind (1974)
Al Green Is Love (1975)
Full of Fire (1976)
Have a Good Time (1976)
The Belle Album (1977)
Truth n' Time (1978)
The Lord Will Make a Way (1980)
Higher Plane (1982)
Precious Lord (1982)
I'll Rise Again (1983)
The Christmas Album (1983)
Trust in God (1984)
He is the Light (1985)
Soul Survivor (1987)
I Get Joy (1989)
From My Soul (1990)
Love Is Reality (1992)
Don't Look Back (1993)
Your Heart's in Good Hands (1995)
I Can't Stop (2003)
Everything's OK (2005)
Lay It Down (2008)
1x LP 180g 33rpm + bonus download

-- In Stock --
( 1972 ) - 2009 EU reissue on 180g LP-1972 classic from soul legend, captured the best most complimentary sound and back up musicians to create the apex of that era's gritty ,smooth sand memorable soul music in what was called R & B at the time . Y
1x LP 180 gr.33rpm HQ vinyl + Download

-- In Stock --
( 1975 ) 2013 EU reissue 180g LP - This 1975 classic set from the Reverend, featuring " Lets Stay Together" , " How Can You Mend A Broken Heart"  & " Tired Of Being Alone",  essential listening. Stickered & sealed in the color sleeve with the original art
1x LP 180g 33rpm + bonus download

-- In Stock --
( 1972 ) - 2013 EU repressing on 180g LP=the 4th longplayer from the legendary soul singer, originally released in 1972, including the hit single title track and Al's classic reading of the Bee Gees' How Can You Mend A Broken Heart'.