Alanis Morissette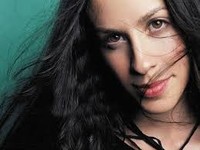 Alanis Morissette (1974-) is a Canadian-American singer-songwriter, guitarist, record producer and actress. She has won 16 Juno Awards and seven Grammy Awards, was nominated for two Golden Globe Awards. Morissette began her career in Canada, and as a teenager recorded two dance-pop albums, Alanis and Now Is the Time, under MCA Records Canada. Her first international album was the rock-influenced Jagged Little Pill, released in 1995. Jagged has sold more than 33 million units globally. Her following album, Supposed Former Infatuation Junkie, was released in 1998. Morissette took up producing duties for her subsequent albums, which include Under Rug Swept, So-Called Chaos and Flavors of Entanglement. Her eighth studio album, Havoc and Bright Lights, was released on August 28, 2012. Morissette has sold more than 60 million albums worldwide. Morissette is also known for her powerful and emotive mezzo-soprano voice. She has been dubbed as the "Queen of alt-rock angst".
Discography:
Alanis (1991)
Now Is the Time (1992)
Jagged Little Pill (1995)
Supposed Former Infatuation Junkie (1998)
Under Rug Swept (2002)
So-Called Chaos (2004)
Flavors of Entanglement (2008)
Havoc and Bright Lights (2012)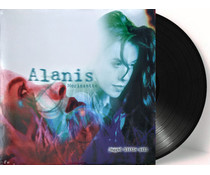 1x LP 180 gr.33rpm HQ vinyl = Cut from the Original Analog Tapes=

-- In Stock --
(1995)- 2012 EU repressed 180g vinyl LP -cut from the Original Analog Master= The biggestselling album by a female artist in history Alanis Morissettes Jagged Little Pill is 16 times platinum and Billboards T...