Billy Idol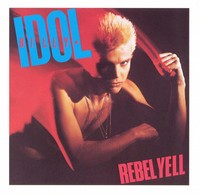 Billy Idol ( born in 1955-) A British punk and pop icon of the '80s who first made his name with Generation X and later became one of MTV's leading hitmakers. Along with Duran Duran, Billy Idol was one the first pop/rock artists to achieve massive success in the early '80s due to a then brand-new U.S. television network, MTV. Mixing his bad-boy good looks with an appealing blend of pop hooks, punk attitude, and a dance beats, Idol quickly rocketed to stardom, before hard living derailed his career and almost proved fatal. Born William Michael Albert Broad on November 30, 1955, in Middlesex, England, the youngster relocated with his family for a brief spell to New York, before returning back to England. After a stint at Sussex University only last a year, Broad found himself as part of a group of teen punk rockers who befriended and followed the Sex Pistols, known as "the Bromley Contingent" (a member of this colorful group of characters was Siouxsie Sioux, eventual leader of Siouxsie & the Banshees).
Albums:
Billy Idol (1982)
Rebel Yell (1983)
Whiplash Smile (1986)
Charmed Life (1990)
Cyberpunk (1993)
Devil's Playground (2005)
Happy Holidays (2006)
Kings & Queens of the Underground (2014)

-- Sold Out -- But expected in again!
2017 EU reissue on 180g 2LP= Including hit singles "Rebel Yell" and "Eyes Without a Face". The Very Best of Billy Idol: Idolize Yourself is a greatest hits compilation album, spanning the recording career of British punk rock vocalist Billy Idol. It was r

-- In Stock --
(1983)2017 EU remastered on 180g LP= (1983) Rebel Yell is the second studio album by English rock musician Billy Idol. Inclu. "Rebel Yell", "Eyes Without A Face", "Flesh For Fantasy", and "Catch My Fall" . A slick, carefully crafted follow-up to his debut