Coleman Hawkins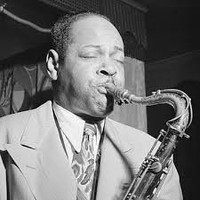 Coleman Hawkins
(1904 - 1969) was an American jazz musician. He is considered the first great jazz-tenor-saxophonist.. He was one of the pioneers of jazz music and especially the saxophone given a firm place in jazz. Hence his nickname
"father of the tenor saxophone
. He started at the age of 5, however, the piano and later also on cello. On his ninth birthday he got one, then in the United States popular and cheap, C-melody sax. Although smaller than a tenor sax still a great instrument for a child, but the young Coleman was obsessed.
Fellow saxophonist
Lester Young
, known as "Pres", commented in a 1959 interview with The Jazz Review: "As far as I'm concerned, I think Coleman Hawkins was the President first, right? As far as myself, I think I'm the second one."
Miles Davi
s once said: "When I heard Hawk, I learned to play ballads."
Albums:
1939  Body and Soul (Bluebird)
1944  The Complete Coleman Hawkins on Keynote (Mercury)
1946  Bird and Pres – The '46 Concerts Jazz at the Philharmonic
1951  Body and Soul Revisited (Decca/GRP)
1954  The Hawk Returns (Savoy)
1955  The Stanley Dance Sessions (Lonehill Jazz, 1955–1958)
1956  The Hawk in Hi-Fi (Bluebird)
1957  The Genius of Coleman Hawkins (Verve)
1957  The Greatest Jazz Concert in the World (Pablo)
1957  At the Opera House (Verve)
1957  The Hawk Flies High (Prestige/OJC)
1958  Bean Bags (Atlantic, 1958)
1958  Soul (Prestige/OJC)
1959  Coleman Hawkins Encounters Ben Webster (Verve)
1959  Hawk Eyes (Prestige, 1959)
1959  Coleman Hawkins with the Red Garland Trio (Moodsville, 1959) – with Red Garland
1960  At Ease with Coleman Hawkins, Night Hawk (Prestige/OJC)
1960  The Hawk Swings (Crown, 1960)
1960  Coleman Hawkins All Stars (Swingville, 1960) – with Joe Thomas and Vic Dickenson
1960  Night Hawk (Swingville, 1960) – with Eddie "Lockjaw" Davis
1961  The Hawk Relaxes (Prestige/OJC)
1962  Verve Jazz Masters 34 (Verve)
1962  Duke Ellington Meets Coleman Hawkins (Impulse!, 1962) – with Duke Ellington
1962  Good Old Broadway (Moodsville 1962)
1962  The Jazz Version of No Strings (Moodsville, 1962)
1962  Coleman Hawkins Plays Make Someone Happy from Do Re Mi (Moodsville, 1962)
1962  Desafinado (Impulse!, 1962)
1962  Today and Now (Impulse)
1963  Sonny Meets Hawk! (RCA Victor, 1963) – with Sonny Rollins
1965  Wrapped Tight (Impulse!, 1965)
1966 Supreme (Enja)
1966  Sirius (Pablo, 1975 - recorded December 20, 1966 in New York)
2004  The Best of Coleman Hawkins (Original Jazz Classics, a 2004 compilation of 1958-1962 recordings)
1x LP 180 gr.33rpm pure Virgin Vinyl =audiophile grade

-- In Stock --
( 1957 ) 2019 EU reissue 180g vinyl LP-"...these are all truly classic Verve titles that you simply don't want to miss...most importantly, the sound of these reissues is nothing short of astounding." Many saxophonists have come close, but none have quite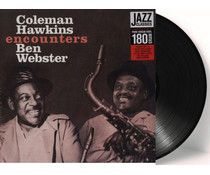 1x LP 180 gr.33rpm pure Virgin Vinyl =audiophile grade

-- In Stock --
( 1957) 2012 EU reissue on 180g LP-"...these are all truly classic Verve titles that you simply don't want to miss...most importantly, the sound of these reissues is nothing short of astounding." Many saxophonists have come close, but none have quite equa