David Bowie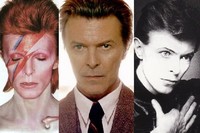 David Bowie (Brixton (London), January 8, 1947) is an English musician. He is seen as a highly influential rock musician, artist and actor, from the sixties to the present.
David Bowie was known for worldwide hits such as Space Oddity, Changes, Ziggy Stardust, Let's Dance, Dancing in the Street, Heroes and Under Pressure. He is also known for the various image, which were considered eccentric, especially in the seventies.
Discography:
1967     David Bowie
1969     Space Oddity
1970     The Man Who Sold the World
1971     Hunky Dory
1972     The Rise and Fall of Ziggy Stardust and the Spiders from Mars
1973     Aladdin Sane
1973     PinUps
1974     Diamond Dogs
1975     Young Americans
1976     Station To Station
1977     Low
1977     "Heroes"
1979     Lodger
1979    Dollars in Drag; The 1980 Floor Show; ook wel The White Album genoemd
1980     Scary Monsters (and Super Creeps)
1983     Let's Dance
1984     Tonight
1987     Never Let Me Down
1993     Black Tie White Noise
1995     1. Outside
1997     Earthling
1999     'hours...'
2002     Heathen
2003     Reality
2013     The Next Day