Death From Above ( 1979 )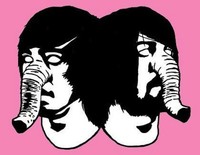 Death from Above 1979 are a Canadian rock duo from Toronto, Ontario. The duo consists of Sebastien Grainger (vocals, drums, percussion) and Jesse F. Keeler (bass guitar, keyboards, backing vocals). Their first full-length album, You're a Woman, I'm a Machine, was released in late 2004 on Last Gang Records. The band broke up in 2006, but announced a reunion in 2011. Their second album, The Physical World, was released in September 2014.  High-energy, high-volume duo influenced by punk, hard rock, and dance music. 
Albums:
2004 You're a Woman, I'm a Machine 
2014 The Physical World
1x LP 140g 33rpm + Download

-- In Stock --
2014 EU issue on 140g Vinyl +download=Produced by D. Sardy (Red Hot Chili Peppers, LCD Soundsystem, Wolfmother, Oasis), The Physical World comes a full ten years after the release of the band's universally acclaimed debut album, You're A Woman, I'...