Dinah Washington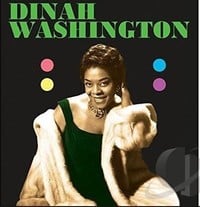 Dinah Washington: (born Ruth Lee Jones 1924 –1963) An American singer and pianist, who has been cited as "the most popular black female recording artist of the '50s". Primarily a jazz vocalist, she performed and recorded in a wide variety of styles including blues, R&B, and traditional pop music,[1] and gave herself the title of "Queen of the Blues". She was a 1986 inductee of the Alabama Jazz Hall of Fame,and was inducted into the Rock and Roll Hall of Fame in 1993.
Albums:
1952: Blazing Ballads
1954: Dinah Jams
1954: After Hours with Miss "D"
1956: In the Land of Hi-Fi
1956: Dinah!
1956: The Swingin' Miss "D"
1957: Dinah Washington Sings Fats Waller
1958: Dinah Sings Bessie Smith
1958: Newport '58
1959: What a Diff'rence a Day Makes!
1959: The Two of Us (met Brook Benton)
1962: Dinah
1963: Back to the Blues
1xLP 180g 33rpm

-- Sold Out -- But expected in again!
( 1959 ) - 2015 EU reissue on 180g LP-One of the more notorious albums in the history of vocal music, What a Diff'rence a Day Makes! is the lush session that bumped up Dinah Washington from the "Queen of the Blues" to a middle-of-the-road vocal wondress -
1x LP 180 gr.33rpm

-- Sold Out -- But expected in again!
(1956) -2018 EU reissue on 180g vinyl LP= One certainly couldn't say that Ruth Jones had a velvety, smoochy voice. But in jazz history that's never been of prime importance.
1x LP 180 gr.33rpm HQ vinyl =HQ Analogue pressing

-- In Stock --
( 1963 ) 2016 UK reissue on 180g LP=an astonishing collection and piece of blues history, this 1963 album caresses your ears with some of the finest tunes by the Queen Of Blues who managed to impose her trademark vocal style on generations of blues makers