Eels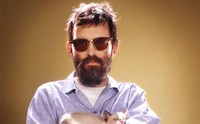 Eels (often typeset as eels or EELS) is an American alternative rock band, formed in California in 1995 by singer/songwriter and multi-instrumentalist Mark Oliver Everett, better known as "E" (son of famous physicist Hugh Everett III). Band members have changed across the years, both in the studio and on stage, making Everett the only official member for the most of the band's work. Often filled with themes about family, death and lost love, Eels' music straddles a wide range of genres, which is evidenced with the peculiar musical style of every album. Since 1996, Eels has made eleven major studio releases, The Cautionary Tales of Mark Oliver Everett (2014) being their most recent release.
Eels appear on several film soundtracks, including Scream 2, American Beauty, Road Trip, Holes, The Anniversary Party, Knocked Up, Yes Man, The End of Violence, Hellboy II, Hot Fuzz, Cirque du Soleil: Worlds Away 3D, Charlie Bartlett, Enough Said, Delivery Man, and the first three Shrek films.
Discography:
    Beautiful Freak (1996)
    Electro-Shock Blues (1998)
    Daisies of the Galaxy (2000)
    Souljacker (2001)
    Shootenanny! (2003)
    Blinking Lights and Other Revelations (2005)
    Hombre Lobo (2009)
    End Times (2010)
    Tomorrow Morning (2010)
    Wonderful, Glorious (2013)
    The Cautionary Tales of Mark Oliver Everett (2014)
======
Oh, what a beautiful morning     2000(Livealbum)
Electro-shock blues show -2002 (Livealbum)
With strings: Live at town hall -2006(Live)
Useless trinkets - B-sides, Soundtracks, Rarities and Unreleased - 1996-2006     2008
Meet the Eels: Essential Eels - vol. 1 1996-2006   -2008
Live and in person! London 2006 -2008
1x LP 180 gr.33rpm

-- In Stock --
( 2000 ) 2015 EU reissue on 180g vinyl LP- Their third studio album received a generally favorable response from critics, including the singles 'Flyswatter', 'Jeannie's Diary' and the Hidden Bonus Recording 'Mr. E's B...
1x LP 180 gr.33rpm HQ vinyl + Download

-- In Stock --
1996 -2014 EU reissue on 180g LP= Band's Debut inlucding as titles like "My Beloved Monster," "Your Lucky Day in Hell" and "Novocaine for the Soul" indicate. All in all, Beautiful Freak is a satisfying first record.