Elbow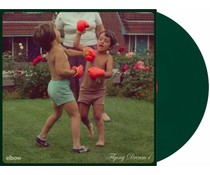 1x LP 33rpm GREEN vinyl =

-- In Stock --
2021 EU reissue on green vinyl LP =Elbow release their 9th studio album, 'Flying Dream 1'.The band wrote 'Flying Dream 1' remotely in their home studios before coming together at the empty Brighton Theatre Royal to perfect, perform, and record the songs.
1x LP 180g 33rpm

-- In Stock --
2019 EU issue on 180g LP =Giants of All Sizes is the eighth studio album by British alternative rock band Elbow, featuring the single "Dexter & Sinister". 
1x LP 180g 33rpm

-- Sold Out -- But expected in again!
2005 -2020 EU reissue on vinyl LP = the third studio album by English rock band Elbow, an ambitious and beautiful album that confirms Elbow as one of the bands of our time.