Joan Baez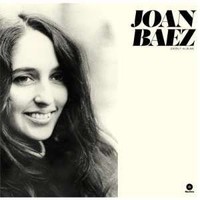 Joan Baez (1941- )Arguably the world's most famous female folk singer, known for her distinctive, sweeping soprano and her accomplished interpretive skills.= Joan Baez has influenced nearly every aspect of popular music in a career still going strong. Baez is possessed of a once-in-a-lifetime soprano, which, since the late '50s, she has put in the service of folk and pop music as well as a variety of political causes. Starting out in Boston, Baez first gained recognition at the 1959 Newport Folk Festival, then cut her debut album, Joan Baez (October 1960), for Vanguard Records. It was made up of 13 traditional songs, some of them children's ballads, given near-definitive treatment. A moderate success on release, the album took off after the breakthrough of Joan Baez, Vol. 2 (September 1961), and both albums became huge hits, as did Baez's third album, Joan Baez in Concert, Pt. 1 (September 1962). Each album went gold and stayed in the bestseller charts more than two years.

ALBUMS:
Joan Baez (1960)
Joan Baez, Vol. 2 (1961)
Joan Baez in Concert (1962)
Joan Baez in Concert, Part 2 (1963)
Joan Baez/5 (1964)
Farewell, Angelina (1965)
Noël (1966)
Joan (1967)
Baptism: A Journey Through Our Time (June 1968)
Any Day Now (1968)
David's Album (1969)
One Day at a Time (1970)
Blessed Are... (1971)
Come from the Shadows (1972)
Where Are You Now, My Son? (1973)
Gracias a la Vida (1974)
Diamonds & Rust (1975)
Gulf Winds (1976)
Blowin' Away (1977)
Honest Lullaby (1979)
Recently (1987)
Speaking of Dreams (1989)
Diamonds and Rust in the Bullring (1989)
Play Me Backwards (1992)
No Woman No Cry (1992)
Gone from Danger (1997)
Dark Chords on a Big Guitar (2003)
Day After Tomorrow (2008)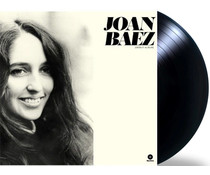 1x LP 180g 33rpm=remastered=

-- In Stock --
2014 EU reissue on 180g LP+ download-Joan Baez' first LP, was released by Vanguard in 1960, when the folk revival was reaching new heights. Her stunningly pure voice and acoustic guitar accompaniment beguiled so many listeners that the album went gol...