Joni Mitchell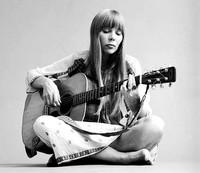 Joni Mitchell is a Canadian musician, singer songwriter, and painter. Allmusic said, "When the dust settles, Joni Mitchell may stand as the most important and influential female recording artist of the late 20th century",[7] and Rolling Stone called her "one of the greatest songwriters ever".[8] Her lyrics are noted for their developed poetics, addressing social and environmental ideals alongside personal feelings of romantic longing, confusion, disillusion, and joy.
Discography:
    1968 Joni Mitchell (Song to a Seagull)
    1969 Clouds
    1970 Ladies of the Canyon
    1971 Blue
    1972 For the Roses
    1974 Court and Spark
    1974 Miles of Aisles (live)
    1975 The Hissing of Summer Lawns
    1976 Hejira
    1977 Don Juan's Reckless Daughter
    1979 Mingus
    1980 Shadows and Light (live)
    1982 Wild Things Run Fast
    1985 Dog Eat Dog
    1988 Chalk Mark in a Rainstorm
    1991 Night Ride Home
    1994 Turbulent Indigo
    1998 Taming the Tiger
    2000 Both Sides Now
    2002 Travelogue
    2004 Dreamland
    2005 Songs of a Prairie Girl
    2007 Shine
1x LP 180g 33rpm

-- Sold Out -- But expected in again!
( 1970 ) - 2011 EU pressed on 180g LP = Includes the classics "Big Yellow Taxi" & "Woodstock." 1970 wonderfully varied release shows a number of new tendencies in Joni Mitchell's work, some would come to fuller fruition on subsequent albums, includes cla
1XLP 180g vinyl 33rpm

-- Sold Out -- But expected in again!
(1976)2014 EU reissue on 180g LP=Joni Mitchell's 1976 Hejira is the last in an astonishingly long run of top-notch studio albums dating back to her debut. This superb overtly jazz-oriented album includes "Coyote," "Amelia" & "Furry Sings The Blues."