Kylie Minogue
2x LP HQ Vinyl + Bonus CD+MP3

-- In Stock --
2001 -2021 EU reissue limited white vinyl LP -Happy 20th Anniversary to Kylie Minogue's eighth studio, best-selling global smash album 'Fever', including hit "Can't Get You Out Of My Head. "It's time to feel the fever all over again! 
2x LP HQ Vinyl + Bonus CD+MP3

-- In Stock --
2019 EU reissue vinyl 2LP+download -With decades of hits under her belt, this album bring together some of Kylie Minogue's greatest hits. The collection features seven UK number 1s, including the million-selling 'Can't Get You Out of My Head'.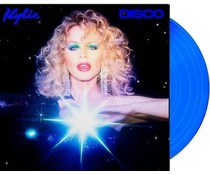 1x LP 33rpm =coloured vinyl =

-- In Stock --
2020 EU issue BLUE  vinyl LP - Fifteenth album by the Aussie pop princess. 'Disco' follows on from her previous country-influenced 2018 album 'Golden' but has a far more '70's and '80's disco feel to it. The album also incorporates modern-day club music a