Leonard Bernstein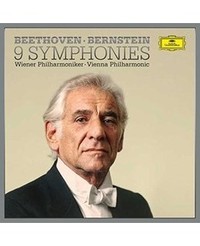 9xLP 180g vinyl 33rpm + download

-- Sold Out -- But expected in again!
( 1981 ) 2017 Half-Speed remastered 180g LP = Leonard Bernstein's legendary Beethoven Symphony cycle with the Vienna Philharmonic, from 1977-1979. Newly remastered at half-speed affording a greater fidelity of higher frequencies and an epic improvement i
2xLP 180g vinyl 33rpm

-- In Stock --
( 1989 ) 2019 Half-Speed Mastered 180g Vinyl 2 LP = Beethoven's 9th Symphony has been enjoyed by audiences for generations. Clearly this is the piece de resistance for the symphony's many 20th Century performances. Conduced by Leonard Bernstein ("Lennie"
1xLP 180g vinyl 33rpm + download

-- In Stock --
( 1981 ) 2017 remastered 180g LP = Deutsche Grammophon presents Leonard Bernstein's interpretation of Beethoven's "Pastoral" Symphony No. 6 with the Wiener Philharmoniker on vinyl. The LP release will feature the original cover and liner notes. 180g pres