Los Lobos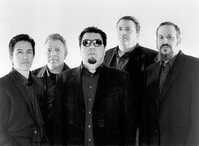 Los Lobos ([los ˈloβos], Spanish"The Wolves") are a multiple Grammy Award–winning American Chicano rock band from East Los Angeles, California. Their music is influenced by rock and roll, Tex-Mex, country, folk, R&B, blues, brown-eyed soul, and traditional music such as cumbia, boleros and norteños.
Selected Albums:
    Si Se Puede!, 1976
    Just Another Band From East L.A. (As Los Lobos Del Este De Los Angeles), 1978 (LP)
    ...And a Time to Dance, 1983
    How Will the Wolf Survive?, 1984
    By the Light of the Moon, 1987
    La Pistola y El Corazón, 1988
    The Neighborhood, 1990
    Kiko, 1992
    Music for Papa's Dream, 1995
    Colossal Head, 1996
    This Time, 1999
    Good Morning Aztlán, 2002
    The Ride, 2004
    Ride This - The Covers EP, 2004
    Live at the Fillmore, 2005
    Acoustic En Vivo, 2005
    The Town and the City, 2006
    Los Lobos Goes Disney, 2009
    Tin Can Trust, 2010
    Disconnected in New York City, 2013
1x LP 180 gr.33rpm HQ vinyl numbered limited

-- Sold Out -- But expected in again!
( 1992 ) 2014 US exclusive limited edition GAIN 2 Ultra Analog Half Speed Mastered LP pressed on 180gram VIRGIN VINYL=Distinguished Band's Ambitious 1992 Album Stands as Peak Moment in a Career Filled With High-Water Marks. Glori...