Louis Armstrong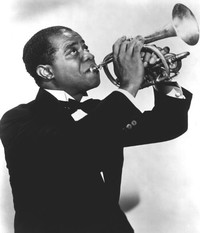 The most important and influential musician in jazz history, and one of the leading singers and entertainers from the 1920s through the '50s. 
Selected Albums:
1951 Satchmo at Pasadena
1952 Satchmo at Symphony Hall, Vol. 2
1954 Louis Armstrong Plays W.C. Handy
1955 Satch Plays Fats: The Music of Fats Waller
1955 Louis Armstrong at the Crescendo, Vol. 1
1956 Ella and Louis
1956 The Great Chicago Concert 1956
1957 Satchmo: A Musical Autobiography
1957 New Orleans Nights
1957 Ella & Louis Again
1958 Porgy & Bess
1961 Recording Together for the First Time
1962 Storyville
1989 Laughin' Louie (1932-1933)
1997 Havin' Fun
2001 Satchmo Plays King Oliver
2002 In Chicago Aug. 1,
2003 The Jubilee Shows, Vol. 7: Nos. 21 & 22
1x LP 180g 33rpm

-- In Stock --
( 1963 ) - 2016 EU reissue on 180g LP= This was released as the first volume of recordings by Roulette Records from a 1961 summit between two jazz icons. Using Armstrong's regulars plus Ellington at the piano (who performs exceptionally well, comping unde
2XLP 180g vinyl 33rpm =DMM=

-- In Stock --
2018 EU issue on 180g 2LP= Career-spanning collection featuring early recording "West End Blues", hits "Blueberry Hill", "La Cucaracha" and duets with Billie Holliday, Ella Fitzgerald and many more famous songs "La Vie En Rose", "What A Wonderful World"