Madeleine Peyroux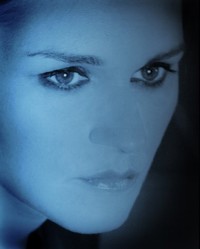 Madeleine Peyroux (1974 - ) is an American jazz singer, songwriter, and guitarist. Peyroux (French pronunciation: [madˈlɛn pɛˈʁu]) is noted for her vocal style, which has been compared to that of Billie Holiday.
Peyroux has cited Holiday, Bessie Smith, Patsy Cline, Édith Piaf, Leonard Cohen, Johnny Mercer, Charlie Chaplin, Serge Gainsbourg and Bob Dylan as influences on her music.
"The only thing that matters is the song," says singer-songwriter
Madeleine Peyroux.
That conviction along with a 'one of a kind' voice, has carried the Jazz artist from busking on the streets of Paris, all the way to mainstream recognition.
Madeleine Peyroux, just the name forecasts a feeling of the French, of someone who has lived life and knows how to sing about it. And, we listen to "Careless Love" and we realize we are listening to someone special who has an innate understanding of how to sing these songs. How can this be when Madeleine is in her late twenties and an American to boot? She is a special find and we intend to keep her.
Madeleine was born in Georgia, but grew up in Paris and New York. She got hooked on French culture and began to sing with street musicians. She learned her craft by listening to the greats and then singing the way she knew best. She was found in a small club in New York and was signed by a major record label.
She loves Billie Holliday, Bob Dylan, Leonard Cohen and Edith Piaf. She has a voice of her own, sometimes husky but always dreamy. Larry Klein produced this album, he is known for working with Joni Mitchell and Shawn Colvin, and once again has proved his worth.
Albums
    1996 : Dreamland
    2004 : Got You on My Mind (avec William Galison)
    2004 : Careless Love
    2006 : Half The Perfect World
    2009 : Bare Bones
    2011 : Standing on the Rooftop
    2013 : The Blue Room
1x LP 33rpm HQ vinyl =

-- In Stock --
( 2004 ) - 2015 US reissue on HQ vinyl LP-This is a beautiful record flowing with sparse arrangements and sultry vocals. If you like Norah Jones, wait until you hear this! The 12 songs found on her 2004 sophomore set Careless Love feature a mix of acoust
1x LP 33rpm HQ vinyl =

-- In Stock --
( 2004 ) - 2022 reissue standard vinyl LP-This is a beautiful record flowing with sparse arrangements and sultry vocals. If you like Norah Jones, wait until you hear this! The 12 songs found on her 2004 sophomore set Careless Love feature a mix of acousti
1x LP 180 gr.33rpm HQ =Play 33 ⅓ RPM LP Series

-- In Stock --
( 2013) 2017 EU remaster on180g vinyl LP= - Acclaimed jazz fusion singer/songwriter Madeleine Peyroux=Celebrated and award-winning jazz singer, songwriter and guitarist Madeleine Peyroux' inspiring 2013 album The Blue Room returns on vinyl. The album is a