Manic Street Preachers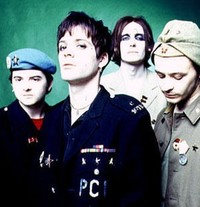 Manic Street Preachers are a Welsh alternative rock band, formed in 1986 in Blackwood and consisting of James Dean Bradfield (lead vocals, lead guitar), Nicky Wire (bass guitar, lyrics) and Sean Moore (drums). They are often colloquially known as "The Manics", or simply, "Manics". Originally a quartet, the band became a trio when primary lyricist and rhythm guitarist Richey Edwards disappeared on 1 February 1995. Their early combination of androgynous glam imagery and critical social lyrics about "culture, alienation, boredom and despair" gained them a loyal following and cult status.
Following Edwards' disappearance, Bradfield, Moore and Wire persisted with Manic Street Preachers, and went on to gain critical and commercial success, becoming one of Britain's premier rock bands.[5] The band's later albums retained a leftist politicisation and intellectual lyrical style while adopting a broader alternative rock sound.[6] Altogether, they have garnered eleven Top 10 albums, fifteen Top 10 singles and have reached No. 1 on the UK charts three times—with their 1998 This Is My Truth Tell Me Yours album, the 1998 "If You Tolerate This Your Children Will Be Next" single and the 2000 "The Masses Against the Classes" single.
Albums:
    1992 - Generation Terrorists
    1993 - Gold Against the Soul
    1994 - The Holy Bible
    1996 - Everything Must Go
    1998 - This Is My Truth Tell Me Yours
    2001 - Know Your Enemy
    2004 - Lifeblood
    2007 - Send Away the Tigers
    2009 - Journal for Plague Lovers
    2010 - Postcards from a Young Man
    2013 - Rewind the Film
    2014 - Futurology
Mini-albums and compilations
    2002 - Forever Delayed (hits en remixes)
    2003 - Lipstick Traces (A Secret History of Manic Street Preachers) (b-sides, covers en rariteiten)
    2011 - National Treasures - The Complete Singles (singles compilation)
1x LP 180g vinyl 33rpm

-- Sold Out -- But expected in again!
2014 EU issue on 180g vinyl LP-Manic Street Preachers' 12th studio album opens with its title track. The music is taut and punchy and urgent: the vocals swirl with reverb, James Dean Bradfield's serrated, Skids-influenced guitar toughs it out for s...