Modern Jazz Quartet - MJQ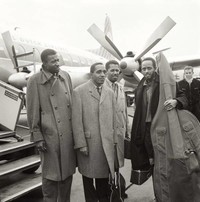 The Modern Jazz Quartet (MJQ ) Jazz group, established in 1952, which performed several jazz styles, including bebop, cool jazz, and third stream.
2xLP 180g 33rpm

-- In Stock --
( 1957) - 2011 EU reissue on 180g 2LP - In the 1950s, a Birdland All Stars Tour brought the Modern Jazz Quartet to various German cities, where they shared stages with Miles Davis, Lester Young, and Bud Powell. In the run-up to the European tour in 1957,
1xLP 180g 33rpm -HQ-

-- Sold Out -- But expected in again!
( 1959) - 2017 EU reissue on 180g LP - "This is a strong recording from the Modern Jazz Quartet, with inventive versions of John Lewis' "Vendome," Ray Brown's "Pyramid," Jim Hall's "Romaine," and Lewis' famous "Django," along with cooking jams on "How Hig
1x LP 33rpm 180g

-- In Stock --
( 1956 ) - 2018 EU reissue on 180g LP ( William Claxton Collection ) - 1956 release by quartet consisting of pianist John Lewis, vibist Milt Jackson, bassist Percy Heath and drummer Kenny Clarke. Django is one of John Lewis' best known compositions, writ