Paul Weller
1x LP 180 gr.33rpm

-- In Stock --
2015 EU issue on 180g LP- his follow-up to 2012's tour-de-force of cut-up pop-punk-kraut and abstract escapades Sonik Kicks. Working alongside his regular sound-desk collaborator Jan "Stan" Kybert (Oasis, Bjork, Massive Attack) in the producer's chai...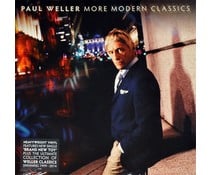 2x LP 180gr 33rpm =gatefold=

-- In Stock --
2014 issue on 180g 2LP-Collection of Weller Classics Spanning 1999-2014=English music legend and former Jam and Style Council frontman Paul Weller will release the second greatest hits collection of his solo career in 2014 with More Modern Classics. ...