Pink(P!nk)
2xLP standard 33rpm +download

-- Sold Out -- But expected in again!
2017 EU issue on standard vinyl 2XLP -International pop icon P! Nk is back with her long-awaited seventh studio album 'Beautiful Trauma'! When writing the 13 tracks that the album is rich, P! Nk worked with songwriters and producers like Max Martin, Shel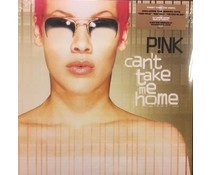 2x LP ltd gold vinyl 33rpm

-- In Stock --
( 2000 ) 2017 EU reissue on limited gold vinyl 2LP -Can't Take Me Home is the debut studio album by American singer and songwriter P!nk. First time on vinyl. The album generated three hit singles "There You Go," "Most Girls," and "You Make Me Sick" and is
1x LP Standard vinyl 33rpm

-- In Stock --
2012 EU reissue on standard vinyl 2XLP -The Truth About Love is the sixth studio album by Alecia Moore aka Pink (on her album covers invariably spelled P! Nk). The latest sheet metal that the American singer was released a compilation album from 2010...