Ryan Adams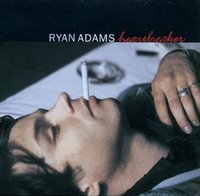 Ryan Adams:(1974- )
Highly regarded and notoriously volatile American alt-country singer/songwriter whose star rose high during the 2000s.  He started as a frontman of Whiskeytown, but garnered the most fame as a solo artist. In addition to singing, he also plays himself guitar and piano. Adams labeled the new Gram Parsons and Kurt Cobain, but his career is particularly due to the frequent composing and recording songs can best be compared to that of Neil Young. Both country-rock and folk-style throughout his career.

 
Albums:
1) As Whiskeytown
1995: Faithless Street
1996: Strangers Almanac
1997: Rural Free Deliverance
2001: Pneumonia ( 1999)
2) SOLO:
2000: Heartbreaker
2001: Gold
2002: Demolition
2003: Rock n Roll
2003: Love Is Hell Vol. 1+2
2005: 29
2010: Orion
2011: Ashes and Fire
2012: Live After Deaf
2014: 1984
2014: Ryan Adams
2015: Live at Carnegie Hall
2015: 1989
2017: Prisoner
3) with The Cardinals
2005: Cold Roses
2005: Jacksonville City Nights
2007: Easy Tiger
2007: Follow the Lights (EP)
2008: Cardinology
2010: III/IV
1x LP 180g 33rpm

-- In Stock --
2017 EU issue on 180g LP +download WAV+MP3- Ryan Adams' first album of all new original material since 2014's Ryan Adams, heralded by lead single "Do You Still Love Me?", Prisoner is somehow one of the most personal yet universal works of the acclaimed si
1XLP 140g vinyl 33rpm + 320 KBPS download

-- In Stock --
2015 EU issue on vinyl 2LP-The wait is over: Ryan Adams' much-anticipated track-by-track reinterpretation of Taylor Swift's chart-topping 2014 album 1989 is finally here! Swift who proclaimed that, "Ryan's music helped shape my songwriting. This ...