Sara K
1x LP 180 gr. HQ Vinyl =DMM=

-- Sold Out -- But expected in again!
2011 German Stockfisch issue DMM on 180g vinyl LP -Stockfisch Records wanted to document these two sides of Sara K's work on the second release in their In the Groove series, recorded here onto 180g vinyl LP using their own Neumann VMS-82 Direct-Met...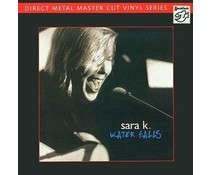 2x LP 180g HQ 33rpm

-- In Stock --
2003 German issue on 180g 2xLP - Folk-pop, jazz-blues, scat-vocals and just a hint of avant-garde: Sara K., the singer/songwriter based in Santa Fe, New Mexico (originally from Dallas, Texas), has never paid much attention to musical borders. With he...