Steven Wilson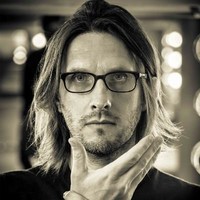 Steven Wilson (1967 ) is a British singer , guitarist , pianist and producer in the progressive rock and metal genre . He is a guitarist and lead singer of the British progressive rock band Porcupine Tree ( since 1991 ) and also a member of the band formed in 1986,
No- Man
, which nowadays includes the duo Wilson and Tim Bowness . Wilson also produced the Blackwater Park , Deliverance and Damnation albums of the Swedish metal band
Opeth
, and he wrote the last album . He also has several musical contributions to these albums . He has worked with artists such as
Opeth, King Crimson, Pendulum, Jethro Tull, XTC, Yes, and Anathema.
Wilson in addition to his work with
Porcupine Tree
various musical side projects, including Bass Communion ,
IEM ( Incredible Expanding Mindfuck )
, Continuum and
Blackfield
. This last project he recorded three albums (
Blackfield I, II
and Blackfield Welcome to my DNA ) with the Israeli musician and peace activist Aviv Geffen . Since 2009 he has also made three solo albums :
Albums:
Solo:
   
2009: Insurgentes
    2011: Grace for Drowning
        Volume 1: Deform to Form a Star
        Volume 2: Like Dust I Have Cleared from My Eye
    2013: The Raven That Refused to Sing (And Other Stories)
    2014: Cover Version( Singles series between 2003 - 2010)


Porcupine Tree:
   
1991: On the Sunday of Life...
    1992: Voyage 34 (12"-Single)
    1993: Up the Downstair
    1994: Moonloop (EP)
    1994: Staircase Infinities (EP)
    1995: The Sky Moves Sideways
    1996: Signify
    1999: Stupid Dream
    2000: Lightbulb Sun
    2001: Recordings (Kompilation)
    2002: In Absentia
    2003: Futile (EP)
    2005: Deadwing
    2007: Fear of a Blank Planet
    2007: Nil Recurring (EP)
    2009: The Incident


Storm Corrosion:
   
2012: Storm Corrosion


No-Man:
   
1993: Loveblows & Lovecries - A Confession
    1994: Flowermouth
    1996: Wild Opera
    2001: Returning Jesus
    2003: Together We're Stranger
    2008: Schoolyard Ghosts

Blackfield:
   
2004: Blackfield
    2007: Blackfield II
    2011: Welcome to My DNA
    2013: IV


Bass Communion:
   
1998: Bass Communion I
    1999: Bass Communion II
    2001: Bass Communion III
    2004: Ghosts on Magnetic Tape
    2005: Indicates Void
    2006: Loss
    2008: Pacific Codex
    2008: Molotov and Haze
    2011: Cenotaph

Incredible Expanding Mindfuck:
   
1996: I.E.M.
    1999: An Escalator to Christmas
    2001: Arcadia Son
    2001: IEM Have Come for Your Children
2x LP 180g =Gatefold+MP3 & FLAC download=

-- Sold Out -- But expected in again!
2015 German issue on 180g vinyl 2LP gatefold edition-The fourth solo album from prolific songwriter, four-time Grammy-nominated artist, multi-instrumentalist and producer, Steven Wilson. Hand. Cannot Erase. is a dynamic 11-song conceptual set, bringi...