Stevie Nicks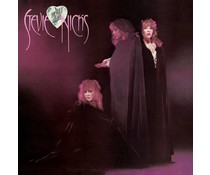 1x LP 180 gr.33rpm

-- In Stock --
( 1983 ) - 2016 EU reissue on 180g LP= with hits "Stand Back", "If Anyone Falls", "Enchanted", "Beauty And The Beast" and the title track "Wild Heart".
2xLP 180g 33rpm= limited clear vinyl=

-- Sold Out -- But expected in again!
2021 EU issue on 180g limited crystal clear 2LP=Filmed and recorded in Indianapolis and Pittsburgh in 2017 during her 67-city sold out tour, 'The 24 Karat Gold Tour: Live in Concert' features Stevie Nicks' solo hits 'Stop Dragging My Heart Around, 'Stand
1x LP 180 gr.33rpm

-- In Stock --
( 1981 ) 2016 EU reissue on 180g LP- an issue of her 1981 debut solo album, including "Stop Draggin' My Heart Around," "Edge Of Seventeen," "Leather & Lace" and "Outside The Rain".