Stone Roses, the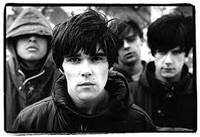 The Stone Roses is a British alternative rock band. Along with the Happy Mondays and Inspiral Carpets The Stone Roses formed in 1990 around the core of the Madchester scene in Manchester. This scene was characterized by combining rock and dance music with guitar. The band is considered one of the pioneers of Britpop. Their self-titled debut album from 1989 is true today as a British classic, and still scores high in lists of "best albums". The most famous song of the band's single Fools Gold. The uplifting groovy drums Reni, the catchy guitar playing of John Squire, solid bass parts Mani and confident stage presence of Ian Brown made the band very popular. In 2011 the band after years of rumors decides to come back for new tour and a new studio album together.
Albums:
    The Stone Roses (1989)
    Turns into stone (1992)
    Second coming (1994)
    Crimson tonight, live EP (1995)
2x LP 180g 33rpm+ download

-- Sold Out -- But expected in again!
( 1994 ) 2012 EU pressed on 180 2LP = the second and final studio album from the iconic Mancunian band, including "Ten Story Love Song" & "Love Spreads," "Breaking Into Heaven,"
1x LP 180 gr.33rpm

-- In Stock --
2014 reissue on 180g LP=the 1989 debut album cemented the band's reputation among critics, and is still rated by some as one of the most influential albums ever recorded, including "I Wanna Be Adored," "Waterfall" & "I Am The Resurrection"
2x LP 180g 33rpm =gatefold=

-- In Stock --
( 2002 ) 2016 EU reissue 180 2LP=Their 2002 anthology with"I Wanna Be Adored," "She Bangs the Drums," "Waterfall," "Made of Stone," "I Am The Resurrection," "Love Spreads," "Ten Storey Love Song" "Fools Gold," "One Love," "Made of Ston...