Strokes, the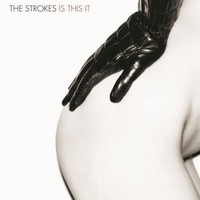 Albums:
    2001 : Is This It
    2003 : Room on Fire
    2006 : First Impressions of Earth
    2011 : Angles
    2013 : Comedown Machine
The Strokes
are an American rock band. The band was formed in New York City in 1999 and consists of singer Julian Casablancas, guitarists Albert Hammond Jr. and Nick Valensi, bassist Nikolai Fraiture and drummer Fabrizio Moretti.
In 2001 they released their debut album Is This It in which The Strokes were seen in the post-punk and garage rock revival. As arbiters The album was praised worldwide and NME renamed the group to the Saviours of rock 'n' roll. [1] Two years later, the sequel album Room on Fire came out, followed by First Impressions of Earth in 2006. After the band recorded a long pause, in which several band members went to work. on solo projects In the spring of 2011 appeared the fourth studio album entitled Angles. His successor Comedown Machine came out in March 2013.
1x LP standard 33rpm

-- Sold Out -- But expected in again!
( 2001 ) 2020 reissue on standard vinyl LP= That Leather Glove That Bum. One of the most recognizable and celebrated record covers from the noughties. Critics and audiences al...
1x LP standard 33rpm

-- In Stock --
( 2005 ) 2021 reissue on standard vinyl LP =Features the first single 'Juicebox' & "You Only Live Once". First Impressions On Earth is the third album from the Strokes, and its 14 songs form an extremely persuasive argument that the Strokes are no longe
1x LP 33rpm vinyl =

-- Sold Out -- But expected in again!
2003 - 2021 EU reissue on vinyl LP -Including "Reptilia", "12:51" and "The End Has No End", Room On Fire followed up the smash album Is This It. Room On Fire eventually peaked at #4 in the US Billboard 200. First vinyl reissue since its original release