Vampire Weekend
1x LP standard 33rpm

-- Sold Out -- But expected in again!
2019 EU issue vinyl 2LP-Father of the Bride is the highly anticipated new album from Vampire Weekend, and is the band's fourth full length release. The album features 18 songs, including "Harmony Hall," "Big Blue," "2021," and "Sunflower."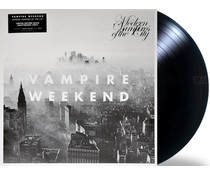 1x LP standard 33rpm

-- In Stock --
2013 EU issue on standard LP-Modern Vampires of the City is the third album from New York's Vampire Weekend including the singles "Diane Young", "Step", "Unbelievers", "Finger Back", "Worship You".