War On Drugs
2x LP Standard 33rpm=gatefold=

-- Sold Out -- But expected in again!
2020 EU issue on standard 2LP-comprises recordings from tours behind Lost in the Dream and its follow-up, 2017's A Deeper Understanding, The first live album from the Philadelphia band feels loose and sounds immaculate, cementing their status as one of th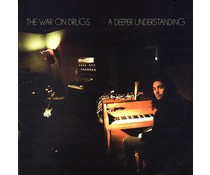 2x LP Standard 33rpm=gatefold=

-- In Stock --
2017 EU issue on standard 2LP- fans rejoice as the War on Drugs get ready to issue their fourth album and the first since 'Lost in the Dream' - the album that saw us branded "off our rockers" because we didn't really like it. Admitt...
2x LP 180g 33rpm

-- In Stock --
2014 EU issue on 180g 2xLP+download - Lost In The Dream is the third album by Philadelphia band The War on Drugs, but in many ways, it feels like the first. Around the release of the 2011 breakthrough Slave Ambient, Adam Granduciel spent the bulk of ...