ZZ Top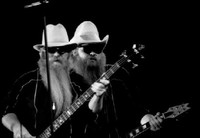 ZZ Top is an American southern rock band from Houston (Texas), founded in 1969 by Billy Gibbons. She achieved her greatest successes in the 70 and 80. The band members are Billy Gibbons (vocals and guitar), Dusty Hill (bass) and Frank Beard (drums). The band is notable for its special look: Gibbons and Hill always wearing sunglasses, a trench coat and a long beard. Beard (English beard) is contrary to what its name suggests, no beard.
Guitarist Billy Gibbons is known for its unmistakable sound, "brown tone". He mainly plays in a classic 1959 Gibson Les Paul guitar, which he calls Miss Pearly Gates. He plays with a "peso" coin as a pick, and makes frequent use of "flageolet" or "harmonics", so peculiar to the sound of ZZ Top.

Albums:
ZZ Top's First Album     1971         
Rio Grande Mud     1972        
Tres Hombres     1973
Fandango!     1975
Tejas     1976
The Best of ZZ Top     1977
Degüello     1979
El Loco     1981
Eliminator     1983
Afterburner     1985
Recycler     1990
ZZ Top's Greatest Hits     1992
Antenna     1994
One Foot in the Blues
Rhythmeen     1996
XXX     2001
Mescalero     2003
Chrome, Smoke & BBQ     2003
Rancho Texicano     2004
Live From Texas     2008
Live In Germany     2010
La futura     2012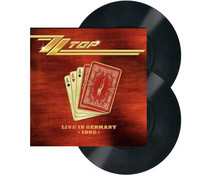 1x LP 180 gr.33rpm = 30th=

-- In Stock --
( 1980 ) 2019 EU reissue 180g vinyl 2LP - 2019 EU reissue 180g vinyl 2LP-ZZ Top, that little ol' band from Texas, brought the thunder for their concert in Essen, Germany in 1980. The concert was originally filmed for the German television show Rockpalast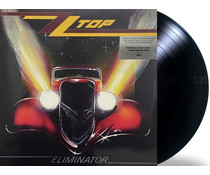 1x LP 180 gr.33rpm = 30th=

-- In Stock --
( 1983 ) 2019 EU reissue 180g vinyl LP - including "Gimme Al Your Lovin'", "Sharp Dressed Man" & "Legs". A ZZ classic fusing the humming synthesizers of New Wave with the trademark ZZ hotrodded blues boogie, picture sleeve with illustrated inner.