2Pac (Two Pac/Tupac)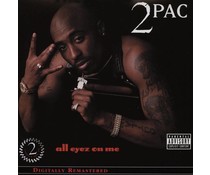 4x LP standard 33rpm

-- Sold Out -- But expected in again!
2017 EU reissue on standard 4LP= the 4th studio album from legendary rapper 2Pac. Includes the two Billboard #1 singles, "How Do U Want It" and "California Love" and features guest appearances by Snoop Dogg, George Clinton, Dr. Dre and Nate Dogg ...
2x LP 180g 33rpm + download

-- In Stock --
2017 EU issue on 180g 2LP+download-This marks the very first time Tupac Shakur's 1991 debut, 2Pacalypse Now, has been available on vinyl in the U.S. To celebrate the cornerstone record's 25th anniversary, Respect The Classics is offering the album ...