Abbey Lincoln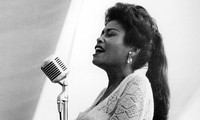 Abbey Lincoln, was an American jazz vocalist, songwriter, and actress, who wrote and performed her own compositions.
When she reached her independence as an artist, she alliance with the Black Power Movement. Her first musical contribution to this movement was to be found on the album We Insist! Freedom now from 1960. On this album she worked with her future partner Max Roach (Lincoln was married to drummer Max Roach from 1962 to 1970.)and other musicians such as Booker Little and Coleman Hawkins. Since this album she was inseparable from the fight against discrimination of the colored population of America.
She said to be by Billie Holiday. Affected Abbey Lincoln was nominated in 1969 for a Golden Globe Award for her role in For Love of Ivy.
Important albums:
Abbey Lincoln's Affair: A Story of a Girl in Love (1956)
That's Him - (1957)
It's Magic - (1958)
Abbey Is Blue - (1959)
Straight Ahead - (1961)
People in Me - (1973)
We Insist -(1960)(with Max Roach)
.
1x LP 180 gr.33rpm HQ vinyl

-- Sold Out -- But expected in again!
(Originally released in 1961)2006 UK Pure Pleasure reissue edition audiophile issue of the 1961 LP, pressed on 180gm vinyl Abbey Lincolns greatest recordings =This is one of Abbey Lincolns greatest recordings It is a testament to the credibility of ...