Alison Krauss / & Union Station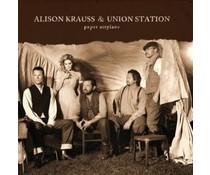 1x LP 180 gr. HQ Vinyl +DOWNLOAD

-- Sold Out -- But expected in again!
2011 US 180g HQ Audiophile vinyl LP + FREE MP3 DOWNLOAD=Krauss and Union Station's First New Album of All-Original Material Since 2004: Roots Music At Its Most Poignant. Incredible Performance and Amazing Sonics. A To-Die-For Female Vocal and Acoust...
1x LP 180g 33rpm =gatefold=

-- In Stock --
2017 EU issue on 180g LP+download -Beautifully Curated Collection of Classic Songs from the Most Decorated Female Artist in Grammy History Produced by Nashville Veteran Buddy Cannon!
Highlights"Losing You","Windy City","River In The Rain"