Duran Duran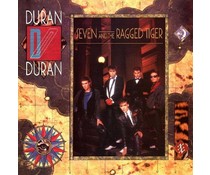 1x LP 180g 33rpm + bonus 12inch Remixes!

-- In Stock --
2010 EU issue on 180g LP+bonus 12inch Album Mixes- includes 'The Reflex,'' New Moon On Monday' and 'Union Of The Snake,' 1983 follow-up Seven And The Ragged Tiger moved even further toward the dance-pop arena and marked their third album in three years ti
2x LP 180gr. HQ Vinyl 33rpm =remastered= bonus track

-- In Stock --
2010 EU repressing on 180g LP+ bonus 12 INCH +their 1981 debut album including ' Girls On Film,' ' Planet Earth' and 'Careless Memories' -Duran Duran's eponymous debut album was originally released in 1981. Includes a bonus 4 song twelve inch. vinyl singl
2x LP 180g 33rpm

-- In Stock --
2015 EU issue on 180g 2LP-is the fourteenth studio album from British new wave band Duran Duran.Singer Simon Le Bon, keyboardist Nick Rhodes, bassist John Taylor, and drummer Roger Taylor recorded the album in London with producers Nile Rodgers, Mark...